Each of our staff members takes pride in offering top-notch commercial cooling services to each and every customer served in Barrie.
When the weather gets warmer outside, you may notice that the cooling system within your commercial building isn't keeping up with demands. If you find yourself constantly fiddling with the thermostat but don't get much relief, you may need to bring in an expert to provide commercial cooling services. At L&B Mechanical, we specialize in both heating and cooling services for commercial clients, so you can trust that your system will be in good hands. Our technicians are very familiar with the unique needs of commercial clients, so we can answer your questions and solve any problem that you may experience.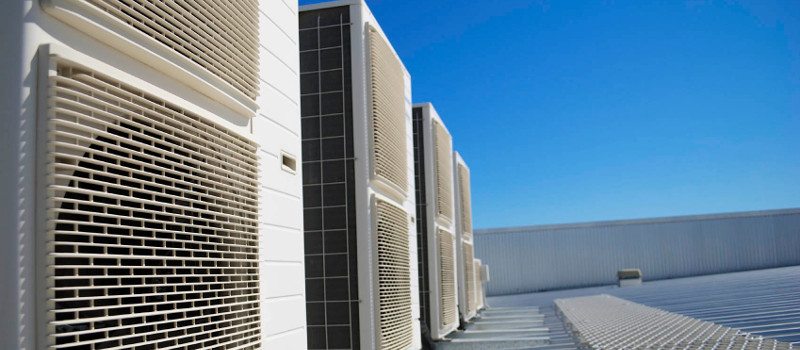 Commercial cooling services are very different from those provided to residential customers, and we understand those differences. The components within your commercial cooling system are much larger and run at a higher capacity to cool a larger space. Your system might also contain different types of parts that are difficult to replace if you're not as familiar with the commercial side of the industry.
We Can Take Care of All Your Commercial HVAC Needs
Do you have questions about your commercial cooling system? We've got answers - give us a call!
Why We Focus on Commercial Cooling Services
At L&B Mechanical, we often get asked by our commercial customers in the Barrie, Ontario area why we do not offer residential services. We understand that it would be nice to have one contractor handle both your home and commercial cooling services, but we believe our policy of focusing on commercial properties has distinct advantages for your company.
First of all, we are able to keep all our continuing education for our team members focused on commercial cooling services. If they had to get ongoing training in both fields, that would leave less time for them to actually service our customers.
Another reason is that our technicians are able to keep their mind and attention to detail intact by not spreading their knowledge base over both residential and commercial cooling services. This also lets them get more experienced every year with strictly commercial heating and cooling equipment. This results in more accurate diagnostics and more efficient services for your company.
Finally, since we offer emergency services, we can provide quicker responses when we are only getting calls from businesses. Since keeping your company operating is our first priority, it makes total sense that we wouldn't want to face putting a residential call before yours.
Think of us like a medical specialist – you wouldn't want a family doctor that was a jack of all trades handling your heart surgery, so why settle for commercial cooling services from anyone but a commercial specialist?  Put your commercial HVAC products in our hands and you'll have the best "heart surgeon" you could ask for!
We Can Make Sure Your Commerical Environment Stays Cool and Comfortable
At L&B Mechanical, we provide commercial cooling services to customers in Barrie, Ontario and many of the surrounding cities. Each of our staff members takes pride in offering top-notch service to each and every customer served, so give us a call today to find out how we can keep your building more comfortable for you and your employees. We're also available for emergency service 24 hours a day, 7 days a week, so if something goes wrong within your heating or cooling system that just can't wait, don't hesitate to contact us.
---
At L&B Mechanical, we offer commercial cooling services in Barrie, Alliston, Midland, Orillia, Collingwood, Gravenhurst, Muskoka, Toronto, Kitchener, and Simcoe County, Ontario.
Excellent and professional.
"Excellent and professional. Immediate response and AC fixed within 4 hours. Thanks so much. "
★★★★★ Ruth P.
Similar Services We Offer: