We're here to keep your business' AC system in great shape.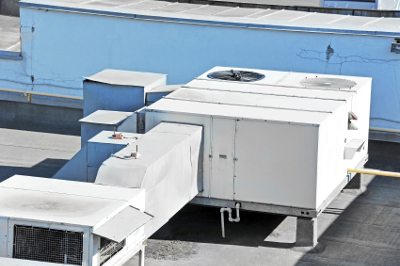 When it comes to running a business, there are always expenses to consider to make your company profitable. Next to the mortgage or rent on the location, often one of the highest expenditures is that of utilities. It only makes sense that in order to maintain a comfortable working environment, you need to have a comfortable level of lighting and temperature. When your Barrie, Ontario business needs air conditioning assistance, there are many reasons why you should call our team here at L&B Mechanical. Some of these reasons include:
Professional. At L&B Mechanical, we work hard to ensure that our customers are satisfied with our services. We are prompt, courteous, and polite, so you or your customers won't ever feel uneasy or uncomfortable around our technicians.
Emergency Services Available. Commercial air conditioning systems are obviously much larger and more complicated than their residential counterparts. Having such a large air conditioning system malfunction can be stressful to say the least! Repairs need to be made, and they need to be done as quickly as possible with minimal disruptions. At L&B Mechanical, we offer 24/7 emergency services to all our clients, so you can get back to your work as soon as possible.
Experienced. When you have a commercial air conditioning system, you want someone working on it who knows what they're doing. Our technicians have all the qualifications and certifications necessary to enable you to feel nothing but confident with our experience working on all your commercial air conditioning needs.
Whether your Barrie business needs a new air conditioning system, a routine check-up or a repair, we want to be the ones to help you. Contact us today and find out why we are the place to call for all your commercial air conditioning needs.

Tips for Selecting a New Air Conditioning System
While you work hard to keep your location's air conditioning system in great shape, there will come a day when you need to switch your current system for a new one. Before you finalize the system you want to purchase, here are some tips to consider:
Fire and foremost, think about how your business uses air conditioning and your actual usage before purchasing a new unit. This will ensure you actually get what you need out of your new system.
Figure out what size unit your building needs. While this may seem counterintuitive, having a system that is too large for your building will actually result in less efficiency and higher cooling costs throughout the year.
Look for a unit that is highly efficient and Energy Star qualified. This is one of the best things you can do moving forward to cut back on cooling costs.
Most importantly, look to us for help picking out your new air conditioning system. We can give you a better feel for the unit you actually need, how large it should be, what features you should consider, etc.
Once selected, we can also install your new unit efficiently and effectively, so it provides your building with years of reliable use. For more information about our air conditioning services for commercial business and how we can help you, give us a call today. We look forward to hearing from you!
---
At L&B Mechanical, we offer commercial air conditioning services in Barrie, Alliston, Midland, Orillia, Collingwood, Gravenhurst, Muskoka, Toronto, Kitchener, and Simcoe County, Ontario.
Similar Services We Offer: