We are always available to provide air conditioning installation and maintenance services in Barrie.
As the weather starts to get warmer, you may notice that your cooling bills are creeping up. While it's normal to have some fluctuation between the seasons, you shouldn't see a drastic increase from one month to the next. When you do see a major jump in cooling costs, you may have a problem with your air conditioner.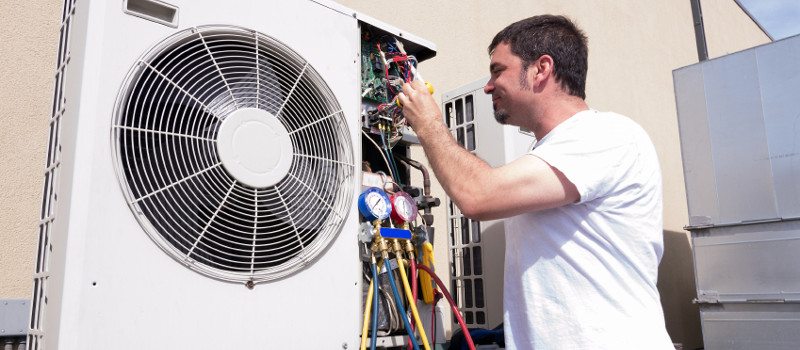 Here in the Barrie, Ontario area, our team at L&B Mechanical is always available to provide air conditioning installation and maintenance services. We offer air conditioning installation for new construction, as well as for business owners who have outdated systems that are inefficient and expensive to run. Our team can certainly handle repairs of all sizes, but in some cases, replacing the unit is more cost-effective. This is especially true when you have an older building with a system that doesn't meet energy efficiency requirements. When we perform air conditioning installation, you will likely immediately notice a drastic decrease in the overall cost to cool your office, since the newer models are much more efficient. So while there will be an up-front cost associated with the new unit, you'll be able to take advantage of significant cost savings while using less energy.
Key Differences in Commercial Air Conditioning Installation
If you haven't had experience with air conditioning installation at your Barrie, Ontario business, you might expect it to be similar to what you may have done at your home. While there are some similarities between the two, you should know that there are enough differences that you should only work with an HVAC company that is experienced with commercial properties. Here at L&B Mechanical, we do only commercial work, so you can be confident our workmanship will be exceptional.
One of the main differences in commercial air conditioning installation is that the size of the space to be air conditioned requires different components than you would need in your home. Commercial systems also require more power to function, so the electrical system must be able to handle the added drain. We also need to take more care when choosing the placement. We have to consider ease of maintenance and keeping the noise level down inside your business. This is why commercial air conditioning installation is usually done on the roof rather than in the yard, as is typical with residential properties.
Other factors that are different include the complexity of the installation, providing adequate drainage for a larger system, and providing the right equipment for the most effective cooling of your building. We have the expertise to make your air conditioning installation go smoothly to give you many years of reliable performance. We can also set you up with the right maintenance schedule to keep your new system operating as it should and as efficiently as possible. Contact us today with any questions you may have.
If you have questions about the process of air conditioning installation or would like to schedule a consultation, please don't hesitate to contact us at L&B Mechanical. We will be happy to provide an estimate for a high-quality air conditioner that will help keep you cool all summer long.
---
At L&B Mechanical, we offer commercial air conditioning installation services in Barrie, Alliston, Midland, Orillia, Collingwood, Gravenhurst, Muskoka, Toronto, Kitchener, and Simcoe County, Ontario.