Let us explain to you how heat pump installation at your Barrie business is the best thing you could do.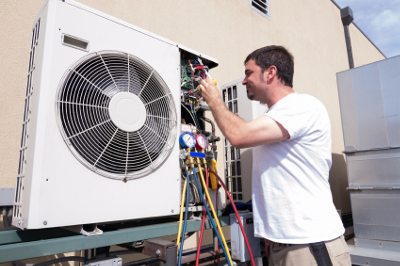 If you are like most businesses, you try to squeeze out every penny of profitability you can both for yourself and those who count on you staying in business for many years to come. If you've been noticing that your heating and cooling operational costs are getting a bit out of hand, it may be time to consider heat pump installation. At L&B Mechanical, we can handle your heat pump installation in Barrie, Ontario flawlessly, so you can be enjoying the benefits right away.
Heat pump installation will not only save you money, but you can also feel good about using an environmentally friendly heating alternative. Because heat pumps use less energy than a traditional system, our planet's resources are less affected. Heat pumps can also be used as a supplemental heat source.
In addition to providing heat pump installation, we also maintain and repair heap pumps, including all makes and models, whether we did the heat pump installation or not. We also offer 24-hour emergency service, so you do not need to go without heat waiting for regular business hours.
If you would like more information about heat pump installation and the value that a heat pump could add to your business, please contact us. We'll be happy to answer your questions and give you a quote to switch over to this energy-efficient heating alternative. You'll be glad you made the change when you see lower utility bills and you and your staff are able to enjoy a more comfortable facility.
---
At L&B Mechanical, we offer commercial heat pump installation services in Barrie, Alliston, Midland, Orillia, Collingwood, Gravenhurst, Muskoka, Toronto, Kitchener, and Simcoe County, Ontario.