Your Barrie commercial property needs regular heat pump maintenance for optimal efficiency and an extended lifespan with fewer repairs.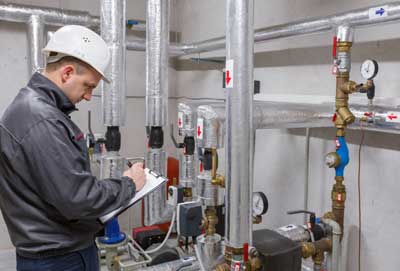 If your commercial building uses heat pump technology, it is important for you to understand that heat pump maintenance is important all year long. A heat pump, despite its name, actually aids in both heating and cooling. It pumps the heat in whichever direction is needed – pulling in warm air to heat the building during the winter and moving hot air outside to cool your space during the summer. At L&B Mechanical, we offer heat pump maintenance in Barrie, Ontario, which involves an annual checkup as well as regular system cleaning on a schedule arranged specific to your needs.
Annual heat pump maintenance will include a variety of tasks to keep your system running efficiently and trouble-free. We'll inspect all components, including the blower, ducts, filters, and coil, to be sure they are operating properly and are free of any obstructions. We will check for and seal any leaks that may be present. We'll measure the output of your system to be sure that airflow is adequate. We'll verify the refrigerant charge and inspect for refrigerant leaks. The electrical terminals will be inspected to be sure none are loose or corroded, and we'll apply a nonconductive coating where needed. In addition, we'll lubricate the motors and check the belts for signs of wear and tighten or replace as necessary. The thermostat will also be checked. All dirt and other debris will be cleared off, so peak efficiency can be experienced.
By keeping up with heat pump maintenance, your system can use up to 25% less energy than it would if it was clogged with dirt and debris. Plus, regular heat pump maintenance will extend its life and avoid costly repairs. Call us today, and let's get you on a schedule so you don't have to worry about heat pump maintenance again.
---
At L&B Mechanical, we offer commercial heat pump maintenance services in Barrie, Alliston, Midland, Orillia, Collingwood, Gravenhurst, Muskoka, Toronto, Kitchener, and Simcoe County, Ontario.