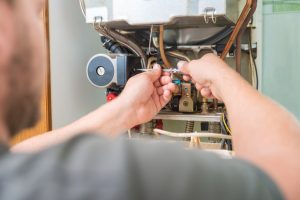 Your business requires the best heating services and products to keep your facility comfortable throughout the year. For something as important as your business, we know you expect the best, most reliable heating products on the market. At L&B Mechanical, we are proud to serve our customers by providing the best products and services to businesses, so you can focus on the many other important aspects of running your company.
Our selection of heating products includes furnaces, heat pumps, boilers and more. The furnace is often used in commercial buildings to produce heat and send it through heating ducts, with heat being produced by the boiler. If you are experiencing issues with your heating system, it could be a problem with any part of the system, and the best way to fix it is by having one of our technicians take a look at your furnace.
Whether you are looking into furnaces, boilers, heat pumps, or other heaters, we can help you find what your business needs. Depending on the location and size of your commercial building, as well as your budget, you will probably need something different from the next person. Our professional team is well qualified to assist you and provide information and expertise.
We are committed to standing by you year-round for any heating or cooling services you need, and we are available even in emergency situations. When you are searching for the best heating products for your business, you can trust the heating products and services we offer at L&B Mechanical. Contact us today!