We provide excellent refrigeration repair in Alliston.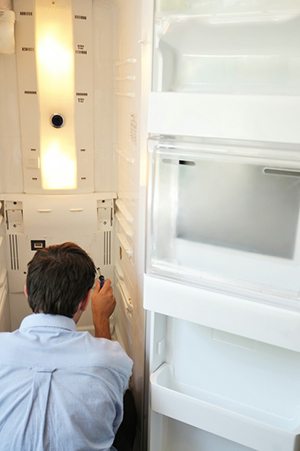 We rely on our refrigerators to extend the shelf-life of our food. It can become a health hazard and a major inconvenience when a refrigerator stops working correctly. There are some common signs that mean things aren't working the way they should be. It's important that you address any concerns right away. That's why we're going to share a few tips to be on the lookout for, so you'll know something is wrong before it gets too serious.
Here are a few signs that mean you might need refrigeration repair:
Condensation inside the refrigerator
Your unit is making strange noises
The temperature does not feel as low as it is set
Food is spoiling quickly
There are ice formations in your freezer
You notice higher utility costs and narrow it down to issues with your refrigerator
If you're noticing some of these issues, call us at L&B Mechanical. We provide excellent refrigeration repair in Alliston, Ontario. We can also help you determine if you need refrigeration repair or if you just need to replace the entire appliance. We'll evaluate it and discuss your options with you.
Modern refrigerators are made to be more energy efficient, so even though there might be an upfront investment, you will save on monthly utilities with a newer model. However, sometimes repairs are simple and inexpensive, and if you already have a newer refrigerator, it will likely be better to have it fixed for a small fee than to replace it entirely.
---
At L&B Mechanical, we offer commercial refrigeration repair services in Barrie, Alliston, Midland, Orillia, Collingwood, Gravenhurst, Muskoka, Toronto, Kitchener, and Simcoe County, Ontario.