Your Barrie commercial building could be a perfect candidate for the benefits that heat pumps can bring.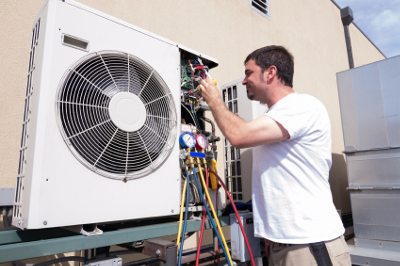 Although heat pumps have been used quite successfully for residential properties, many business people are just now getting to know about how economical and dependable heat pumps can be for commercial applications, as well. At L&B Mechanical, we only deal in commercial heat pumps in Barrie, Ontario, and we can tell you that there are plenty of arguments against them that do not hold up.
First of all, there are those that think heat pumps are too complex to be used in a commercial application. The truth of the matter is that heat pumps have only two additional moving parts over a conventional system, and the electric coils used for heating are completely zero-maintenance. Others believe they are not as dependable, but as long as they are designed and installed by a professional company, such as ours, heat pumps are every bit as dependable as other systems.
This is not to say that all commercial applications are ideal for heat pumps, but that is where you can trust in our expertise for guidance. We understand the true benefits, but also the potential limitations of heat pumps, and we are more than happy to assess your building to see if it is a good candidate for this energy-saving heating alternative. Heat pumps can also be utilized in conjunction with other heating systems to enhance efficiency and improve the comfort in your building. Call us today, and we'll come out and see if you could benefit from the technology behind heat pumps.
---
At L&B Mechanical, we offer commercial heat pumps in Barrie, Alliston, Midland, Orillia, Collingwood, Gravenhurst, Muskoka, Toronto, Kitchener, and Simcoe County, Ontario.