Our refrigeration installation services will help you keep your cool.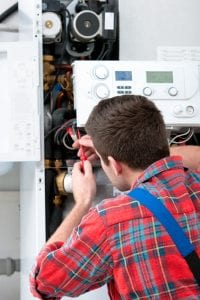 A refrigerator is something that you use on a daily basis. When you choose a fridge for your home, then you likely are looking for more personalized features that you will enjoy. However, when you choose a refrigeration system for your business or a commercial use, then your needs become more complex. You need to consider how the refrigerator will be used, how it will impact your bottom line in terms of efficiency, and whether or not it will keep foods or other products at a safe, regulated temperature. Here at L&B Mechanical, we want to help you with all your commercial refrigeration needs. If you have been looking for someone to assist you with the complex task of selection and refrigeration installation, our team is here for you.
Our refrigeration installation services are available to anyone who needs help with commercial refrigeration equipment, such as churches, shopping malls, apartment buildings, commercial properties, government buildings, restaurants, and much more. We work with commercial properties both large and small and are happy to give direction in the case of your next refrigeration installation.
When you choose our experts for refrigeration installation, we believe you are choosing the best refrigeration experts in the Orillia, Ontario area! We have years of experience with commercial refrigeration and cooling needs and long relationships with commercial industries in the area. We offer maintenance contracts to keep your refrigeration up and running efficiently along with 24/7 emergency services for when you need us most. If you have questions or would like to make an appointment, please give us a call today.
---
At L&B Mechanical, we offer commercial refrigeration installation services in Barrie, Alliston, Midland, Orillia, Collingwood, Gravenhurst, Muskoka, Toronto, Kitchener, and Simcoe County, Ontario.